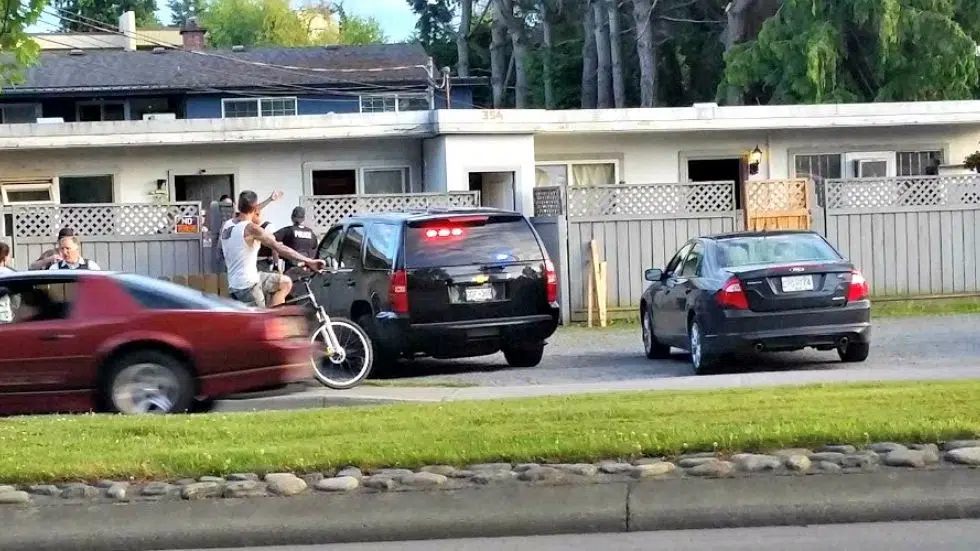 PARKSVILLE — A bust at a suspected Parksville drug house well-known to Oceanside RCMP is no surprise to area residents.
Police say charges are pending against three men arrested in a Tuesday night raid at a multi-family home on the Island Hwy. W north of downtown, where drugs, packaging materials and cash were among the items seized.
Following the bust, a concerned resident reached out to NanaimoNewsNOW to voice concerns about the property, with the hope an improved living environment in the neighbourhood will follow.
The resident, commenting on the condition of anonymity, reported constant drug-dealing in plain view on the property.
"There are other issues on the opposite side of the building and surrounding area, there's a radius of negative activity."
The concerned citizen said property crime in the area has increased, while needles on the beach below Sutherland Cres. led to field trips for pre-school students being canceled.
"I've spoken to several bylaw officers as well as several RCMP officers and they're stretched as thin as you can imagine."
Brian Reimer owns all four units on the property where the bust occurred, between Moilliet and Lombardy streets. He told NanaimoNewsNOW plans are in the works to kick out a problem tenant.
"Our property is not a problem property, we've got one bad tenant in there and he's on the way out. Hopefully he doesn't come back, hopefully he's in jail."
Reimer said he was out of town when the tenant moved in over the winter and said an eviction warning was issued to him prior to Tuesday night's incident. Reimer said it's not easy evicting a tenant who pays rent on time.
While search warrants were conducted on two of Reimer's units, he stressed only one is problematic.
He said homelessness is out of control in Parksville and he offers homes for people who need it.
"It's not great housing but it's housing. The people that have it appreciate it, they really do because they don't have anywhere else. You have to have a bit of compassion."
Reimer intends to sell the site he's owned for 20-years.
Oceanside RCMP confirmed a recommendation will be made to the City to designate the site a nuisance property, which Cpl. Jesse Foreman said would mean the owner would be charged for the cost of future police responses.
Foreman said while neighours wanted more immediate action, search warrants take time to materialize.
"We can't just kick a door in on a house and go in without solid information, that's what makes these particularly difficult, but rewarding when you do finally get in the door and make arrests."
Ian Holmes