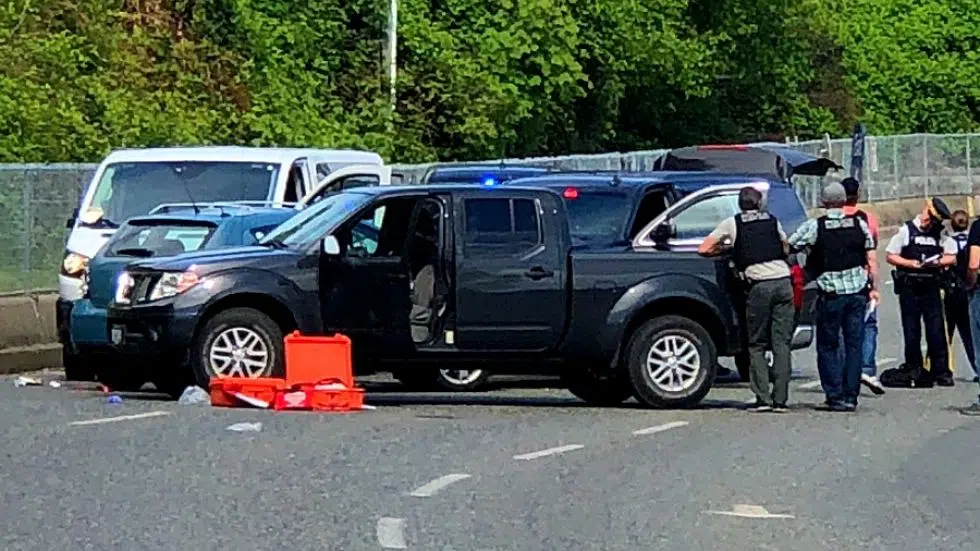 NANAIMO — RCMP across B.C. are now investigating a potential link between a shooting and carjacking in the Okanagan and the fatal police-involved shooting in Nanaimo.
In a late Wednesday statement, police laid out a sequence of violent crimes leading to a suspected stolen vehicle being spotted on a ferry to Departure Bay on Tuesday morning. The arrest attempt that followed ended with a man being shot dead by Mounties.
Police said the first incident was a targetted shooting in broad daylight on Monday, May 7 in Vernon that left a man with life-threatening injuries. The alleged shooter was seen leaving in a car which was spotted in West Kelowna early the same afternoon.
Seven hours later, a man with a gun was spotted at a Penticton motel. Police said he matched the description of the alleged shooter in Vernon and ran away before they arrived.
Police were then called to a carjacking several blocks away from the motel. A driver was left with serious injuries after being assaulted by a man who again matched the description of the Vernon shooter.
Then on Tuesday morning, RCMP said they were tipped off that the bluish-grey Pontiac Vibe stolen in Penticton was on a ferry nearing Departure Bay. Nanaimo Mounties were called in to make the arrest.
The arrest attempt that followed ended with a man being shot and killed by police, who said in a statement following the incident the officers on scene believed the suspect had a firearm.
Earlier Wednesday, Sgt. Janelle Shoihet confirmed to NanaimoNewsNOW they were aware the Nanaimo shooting was connected to a carjacking incident in Penticton.
Investigators are now trying to conclusively determine if the incidents are connected and if anyone else was involved at any point.
Meanwhile, B.C.'s police watchdog and the BC Coroners Service declined to share information on the name, age or hometown of the man killed by police at the ferry terminal. The Independent Investigations Office said it was focusing on interviewing witnesses and hoped to have a "limited update" next week.