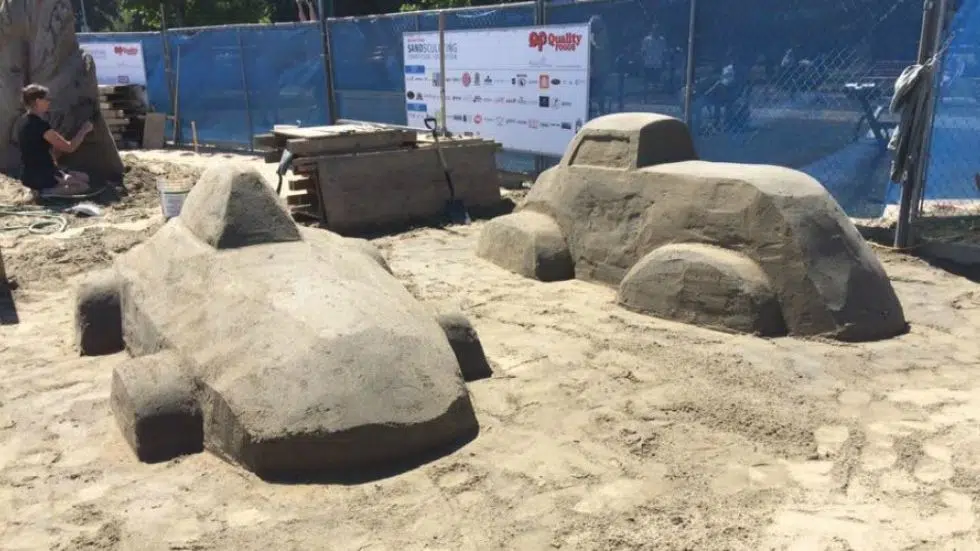 PARKSVILLE — A local artist is turning a rough outing at the annual Canadian Open Sand Sculpting Competition in Parksville into something positive.
Mike Rebar said he didn't add enough water to his sand prior to the annual competition last weekend, which led to several of his attempted designs collapsing.
He settled on two basic small cars, a far cry from the eight-foot high maple leaf he originally set out to create. Rebar said he thought his maple leaf could be saved but he invested too much time trying to salvage the creation and it formed a sizable crack.
"It was a big mistake, I put more time into it and it all came down," the Parksville-based stone sculptor said.
Rebar conceded he decisively lost the "risk and reward" battle all sand sculptors face. He said he tried a few other structures after bailing on his original idea.
"You gotta keep a smile on your face and keep it all on the inside," Rebar said. "It was actually by that time plan C or D, I did try doing other pieces and it was just a calamity of mistakes."
Rebar, a 10-year veteran of the high-profile event at Parksville's Community Park, said he has dismantled his cars and is building a series of other structures over the next two weeks so more people can see how the process of building competition-quality sandcastles works.
daryl.major@jpbg.bc.ca